Fifteen die as Philippine bus hits wall to avoid crowd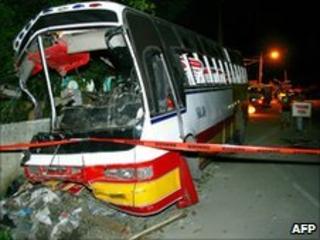 The driver of a runaway bus in the Philippines smashed into a concrete wall in a bid to avoid hitting bystanders, police say.
At least 15 people were killed and another 48 injured in the crash on the central island of Cebu.
The bus was carrying factory workers to their homes when the brakes failed and it began to career out of control.
Deadly crashes are common in the Philippines. In June, 21 people died when a coach went into a ravine.
The latest bus to crash was travelling at high speed from Cebu city to rural townships at the outskirts of Cebu province, Police Senior Superintendent Erson Digal said.