UK Sunday papers: Tough spending cuts in spotlight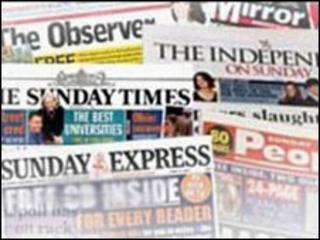 Treasury orders to government departments to draw up plans to cut up to 40% of their spending trouble Sunday's newspapers.
"Eye-watering" is the word used by the Observer to describe them.
For the Sunday Times, they are the "Doomsday" plans, while for the Sunday Mirror the impact of the proposals, if acted upon, would be "draconian".
"Britain would be unrecognisable," says the People. "A second-rate country, on its way to becoming a Third World one".
Cuts of 40% would inevitably lead to extra job losses and reducing services, such as social care for the elderly, says the Independent on Sunday.
The Mail on Sunday believes the proposals would involve the "biggest public-spending cuts in the history of the developed world".
It says approving them would represent a "massive political gamble".
'Tactical sweetener'
But it suggests the figure "could be a tactical manoeuvre, intended to sweeten the pill if lesser cuts are ordered".
The government's "anti-red tape tsar" will recommend the 43 police forces in England and Wales be merged into between 20 and 30, the Observer says.
It quotes Jan Berry as calling the current number "unsustainable".
The Sunday Times leads on a plan by the Education Secretary to make A-levels more academically rigorous.
Michael Gove says a revival of "deep thought" is needed to enable students to hit the ground running when they reach university.
'Civil war'
Meanwhile, the Sunday Telegraph reports that an openly homosexual cleric, Dr Jeffrey John, has made the short-list to become the next Bishop of Southwark.
The paper Describes the Dean of St Albans as a "divisive figure".
Making him Britain's first openly gay bishop could "trigger a civil war" between church liberals and conservatives, it warns.
But it claims he is the "favoured candidate" and that Prime Minister David Cameron is "supportive".