Education Secretary Michael Gove plans A-level reform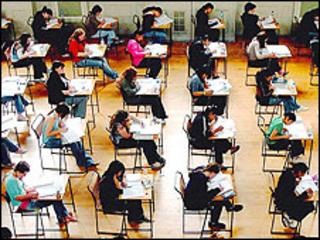 Modular A-levels could be phased out in favour of a return to traditional exams at the end of two-year courses, the education secretary has said.
Michael Gove wants the exams to be more academically rigorous than the current format of sitting them in four or six units allows.
And he said universities had complained that A-levels were not preparing students sufficiently well.
Mr Gove added he expected schools to abandon AS-levels for similar reasons.
In 2001, the Labour government introduced new-style AS-levels to the curriculum in a bid to broaden the range of subjects each pupil studies.
Students usually take four or five, before specialising in three for the second A-level year - known as A2.
'Deep thought'
Mr Gove indicated exam bodies in England, Wales and Northern Ireland would still be able to offer the AS/A2 combination.
But he said he wanted to switch emphasis back to examinations taken at the end of two years of study in order to revive "the art of deep thought".
"We need to ensure that the knowledge expected of A-level students is such that they can hit the ground running (at university) and they don't need, as some have suggested, four-year courses or catch-up tuition" he told the Sunday Times newspaper.
A new A* grade is being introduced this year to help universities identify the brightest pupils, amid complaints in some quarters about grade inflation.
Exam board Cambridge Assessment revealed in March that one in six pupils got three A grades, while 26.7% of A-level entries were awarded the top grade.