Gateshead double shooting suspect 'shot police officer'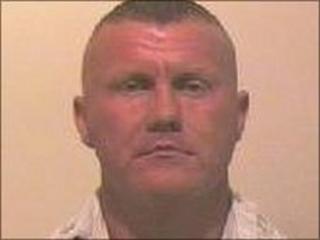 A police officer has been injured in an "unprovoked" shooting which police are linking to an earlier double shooting.
Police are looking for Raoul Thomas Moat, 37, who they believe shot his ex-girlfriend and killed her new partner in Gateshead on Saturday.
The woman, named locally as Samantha Stobbart, was said by her grandmother to have been threatened with a gun by Moat on a previous occasion.
The officer shot in Newcastle early on Sunday, is in a critical condition.
Moat, from Newcastle, was released from prison three days ago.
Police said the uniformed motor patrol officer was carrying out a "static patrol" on a roundabout at East Denton which joins the A1 and A69 when he was attacked. He was later taken to Newcastle General Hospital.
Temporary Chief Constable Sue Sim said: "This was an unprovoked attack on a Northumbria police officer as he carried out his duty.
"My thoughts are with his family and colleagues at this time.
"We strongly believe that this was carried out by the same man who shot two people in Gateshead early yesterday morning."
She reiterated the warning that people should not approach Moat, who is a wanted and "very dangerous" man.
Police said they were pursuing several lines of inquiry and said all available resources and tactics were being used.
Moat had been released from Durham prison on Thursday after serving a sentence for assault.
BBC correspondent Danny Savage said it appeared Moat's relationship with his former girlfriend ended when he was in prison.
Following his release Moat tracked her down to the home of her parents where the shootings took place.
Ms Stobbart remains critically ill in hospital after reportedly being shot twice through a window of the house in Scafell, Birtley.
Northumbria Police said the attack happened at about 0240 BST on Saturday.
Moments later her partner left the property and he was shot about 50m from the front door.
Ray Huntley, who lives nearby and found the dead man's body, said: "I heard gunshot fire and there was a commotion.
"I found a body on the grass opposite the house. He was dead so I called 999.
"He had a hole in the back of his head."
Agnes Hornsby, 69, Miss Stobbart's grandmother, said the 22-year-old would stay with her when her relationship with Moat was unstable.
Ms Hornsby said Moat turned up at her house in Gateshead one evening last year carrying a gun as he believed Miss Stobbart was with another man.
"He threatened us with a gun when she was here because she'd put on her Facebook that she was going out with a friend.
"He was out there for about two hours and she was on the phone to him trying to calm him down."
Relatives of Miss Stobbart told the Sunday Telegraph she had been in an on-off relationship with Moat for six years.
She is now in hospital under armed police guard.
On Saturday, detectives suggested the attack was motivated by a grudge against the couple, but are now saying it appears to be a grudge against the police.
"Moat is still at large, he is still armed and is still dangerous," our correspondent said.
Criminologist Prof David Wilson said there would have been no statutory obligation on the authorities to monitor or supervise Moat once he left Durham prison if he had served less than 12 months.
A post-mortem examination on the dead man is expected to be carried out later.