Graduate unemployment rate rises 25%, think tank says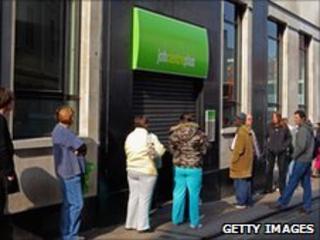 Unemployment among recent graduates has risen significantly, with men worse affected than women, a think tank says.
The Higher Education Policy Institute said unemployment among graduates aged under 24 rose by 25% from 11.1% in December 2008 to 14% in December 2009.
It said at the end of 2009 17.2% of male graduates were out of work compared with 11.2% of women.
However, the independent think tank said that men still earned more on average once in work.
The institute's report comes a day after a research body warned graduate unemployment could hit record levels as a result of planned public spending cuts.
The Higher Education Careers Service said that because so many college leavers join the public sector, they were especially vulnerable to cuts.
Further investigation
To compile its report, the institute analysed the most recent data from the Higher Education Statistics Agency and the Office of National Statistics.
The report suggested discrimination in the workplace and the different subject or career choices made by men and women as reasons for the difference in their earnings - with male graduates receiving 50% more money on average when first employed and 30% more after three years.
This inequality in pay levels among young graduates has persisted despite women generally performing better than men at university, it said.
The institute said this anomaly needed further investigation.
The report said that 44% of graduate jobs were held by men, with this lower employment rate being attributed to less male participation in higher education, and their poorer overall performance at university compared with women.
Drawing on data from a separate survey on the destination of university leavers in 2007 and 2008, the institute nevertheless suggested a more mixed picture with regard to other graduate experiences.
It said that male and female graduates enjoyed similar levels of job satisfaction upon entering the workplace and that they tended to gain jobs of comparable quality.
The report - Male and Female Participation and Progression in Higher Education: Further Analysis - also found that women's participation in higher education rose further than men's between 1994 and 2005 - from 29% to 32% for men and from 35% to 40% for women.