Cuba hunger striker Farinas 'close to death'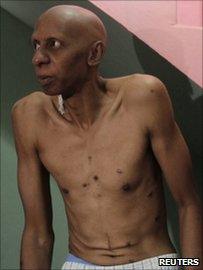 A Cuban political dissident who is on hunger strike is in danger of dying, doctors treating him say.
Guillermo Farinas, 48, has been refusing food since February to demand the release of ill political prisoners.
He is being fed intravenously in hospital, but doctors say he has developed a blood clot that could kill him.
The news was reported in Cuban state media, which usually ignore dissident protests.
The official communist party newspaper Granma published an interview with the doctor leading his treatment, Armando Caballero.
Mr Farinas has actually gained weight due to intravenous feeding since he was moved to hospital on 11 March after collapsing at his home in Santa Clara, Dr Caballero said.
But a blood clot that formed in his neck last week could interrupt the flow of blood to his heart.
"Today the patient has a dangerous potential of death, because it depends on that clot," Dr Caballero said on Saturday.
He added that Mr Farinas was also suffering from an infection that could make further intravenous feeding impossible but said he would not be force-fed as that was against medical ethics.
The BBC's Michael Voss in Havana says the article in Granma appears to be aimed at defusing international criticism should he die.
Mr Farinas is a psychologist who works as a freelance journalist reporting on Cuba in defiance of state media controls.
He began refusing food and water on February 28 after another dissident, Orlando Zapata Tamayo, died while on hunger strike in jail. He is demanding the release of 26 political prisoners who are ill.
"He would rather die than give up his strike," his mother, Alicia Hernandez, told Reuters news agency.
"His fundamental objective is very clear: free the prisoners who are most ill, otherwise he will go to the ultimate consequences."
The Cuban government has previously said it will not be "blackmailed" by Mr Farinas, and said it would be his own fault if he died.
It denies there are political prisoners on the island, saying jailed dissidents are common criminals or "mercenaries" working for the US.
But the government recently made small concessions after talks with the Catholic Church, moving some detainees to prisons closer to their homes on humanitarian grounds.
The unofficial Cuban human rights commission says there are about 180 political prisoners.
Related Internet Links
The BBC is not responsible for the content of external sites.