Royle Family actor Ricky Tomlinson march to clear name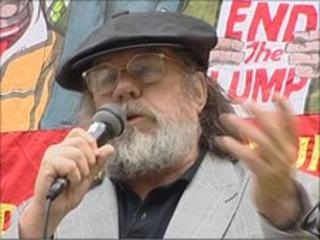 Royle Family TV star Ricky Tomlinson has led a march in Shrewsbury to help clear his name of picketing offences he was convicted of in 1973.
He was charged with violent picketing and intimidating workers during a builders' strike in Telford.
He was given a two-year jail sentence along with 23 others similarly accused, and served 16 months in prison.
The actor maintains his innocence and marched with hundreds of supporters for "Justice for the Shrewsbury 24".
The protestors marched from Abbey Foregate to Shrewsbury Crown Court where the sentences were passed.