Fears benefit cut will increase homelessness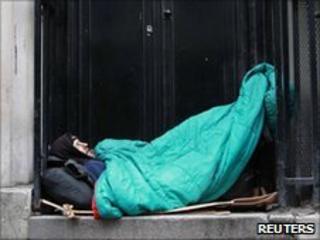 The government's decision to cut housing benefit could put 200,000 people at risk of homelessness, according to a campaign group.
The National Housing Federation (NHF) claims a 10% reduction in payments for those who claim Jobseeker's Allowance for more than 12 months will lead to a steep rise in evictions.
The measure was announced by Chancellor George Osborne in last week's budget.
A government spokeswoman said it would bring "fairness" back to the system.
The NHF, which represents England's housing associations, claims the reduction could leave a large proportion of the UK's 4.7m housing benefit claimants with a 50% cut in disposable income - with many using Jobseeker's Allowance to cover the shortfall in rent.
It said this could result in thousands of people being unable to meet the cost of other necessities, such as food and energy - and that up to 202,000 would be at risk of losing their home altogether.
Package of cuts
The body claims those living in expensive areas like London and the South East were likely to be hardest hit by the move, with childless claimants particularly vulnerable due to their lack of access to other kinds of benefits.
It said the measure - which comes into force in April 2013 - could force people to move away from wealthier parts of the UK, resulting in them missing out on potential job opportunities.
The reduction in housing payments was part of a package of cost-cutting measures announced in the Budget, including a £400 cap on weekly housing benefits, which the government hopes will save £1.8m by the end of this Parliament.
NHF chief executive David Orr said: "Cutting housing benefit could have a catastrophic impact on the lives of thousands of people who - despite their best efforts - have failed to find work after 12 months.
"These changes mean that up to 200,000 people could end up homeless. Quite frankly, the proposals are disturbing and unfair.
"Forcing people already on the breadline to take a huge cut in their disposable income will push low income groups out of prosperous areas like London and the South East - and further away from jobs, therefore increasing unemployment and the concentration of social problems into deprived, marginalised areas."
Loan sharks
In a statement, the NHF said many of those evicted would not qualify for emergency accommodation because they would be deemed to have become intentionally homeless and therefore "at fault" for their situation.
The body said it feared these people could fall prey to loan sharks as they struggled to raise the cash needed for a new home.
It estimated that 34,000 single claimants could be put at risk of homelessness in London, with around 20,000 people affected in Scotland and 10,000 in Wales.
There are currently about 140,000 homeless people in the UK.
A spokeswoman for the Department for Work and Pensions (DWP) said: "This isn't about homelessness - if anyone getting Local Housing Allowance (received by those in privately rented homes) needs to find more appropriate accommodation, a third of properties on the market will still be available to them, and we've tripled our discretionary housing payments to provide a safety net for the most vulnerable.
"There is an urgent need to reform housing benefit and it is right that we return fairness to a system that is out of control.
"It is not right that some families on benefits were able to live in homes that hard-working families could not afford."
The spokeswoman said the NHF's claim that single unemployed claimants had no access to other forms of benefits was "incorrect" - and that payments such as disability living allowance and income support were also available to some claimants.