West Midlands Police 'wastes money' on new shirts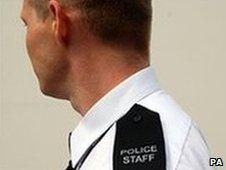 West Midlands Police has been accused of "wasting" £100,000 to change the colour of its officers' shirts.
Officers on operational duties are being issued with black shirts, while community support officers are being issued with a blue version.
It said the lightweight, zip-up shirts were more comfortable to wear than white shirts under protective vests.
The TaxPayers' Alliance said it was an "absurd" amount to pay for cosmetic changes that did not reduce crime.
Alliance spokesman Mark Wallace said: "I think it's absurd to spend money on cosmetic changes at a time when police forces are feeling the pinch.
"The old uniform shirts did the job and this is not going to reduce crime. I think the public would prefer police to focus their money on catching criminals."
Home Secretary Theresa May told the Association of Chief Police Officers on Tuesday that police forces across England and Wales would be subject to significant spending cuts next year and she would be "ruthless in cutting out waste, streamlining structures and improving efficiency".
A spokesman for West Midlands Police said the force accepted the need for spending cuts but the decision to change the shirts had been taken in conjunction with the Police Authority and funding had already been accounted for in this year's budget.
Chief Constable Chris Sims said: "The general view from staff was that, although the classic white shirt looks professional and businesslike, they can be restrictive and uncomfortable when worn under protective vests when out on patrol."
Those issued with black and blue shirts will also be required to wear a high visibility harness in which to carry weapons and a radio.
New uniforms began to be rolled out across the force in May and were issued to police in south Birmingham this week.
Station-based staff are to keep their white shirts.
Related Internet Links
The BBC is not responsible for the content of external sites.