Funding boost for declining otters in North East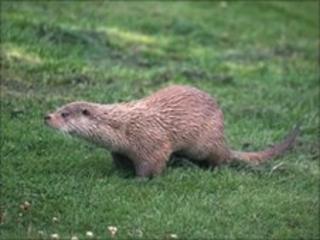 A funding boost of nearly £142,000 is being used to improve habitats for otters on Tyneside, Wearside and Teesside.
It is hoped upgraded watercourses will reverse the decline in the number of otters, which has been an ongoing problem since the 1950s.
The areas to be improved include Gateshead, Darlington, South Tyneside and Sunderland.
The three year project has been funded by environmental group, SITA Trust.
Reed-beds will be created to provide habitat areas and links between rivers and breeding sites will be improved.
Dramatic decline
It is hoped that the creation of underpasses and mammal ledges will also reduce the number of otters killed on roads in the area.
Shonah Dobson, of the Durham Biodiversity Partnership (BDP) which is leading the project, said: "It really is fantastic to see otters naturally retuning to our rivers and we aim to give them a helping hand."
Local contractors and volunteers will be carrying out the work.
In the late 1950s, there was a dramatic decline in otter numbers throughout Britain and Europe.
The causes are believed to have been pollution, the use of pesticides and drainage of wet areas.