Princess Royal takes salute from Household Cavalry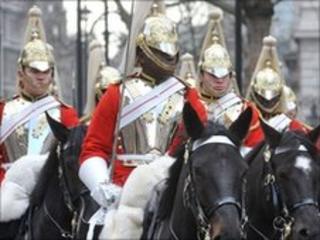 The Princess Royal has taken the salute from the Household Cavalry Regiment at a parade to mark its return from a six-month deployment to Afghanistan.
About 250 soldiers exercised the regiment's Freedom of Windsor to parade through the Berkshire town.
During the tour of duty, L/Cpl Jonathan Woodgate, 26, of Bury St Edmunds, Suffolk, was killed on foot patrol.
The parade was led by a mounted escort of four troopers from the Life Guards and four from the Blues and Royals.
Combat vehicles brought up the rear of the parade, which marked the soldiers' return home in May.
Hand grenade
The soldiers then attended a memorial service with friends and families.
L/Cpl Woodgate was on foot patrol near Sangin district centre when he was killed by a grenade thrown from behind a wall.
Members of D squadron were unable to take part in the parade because of preparations ahead of their next deployment in the autumn.
On Friday, Windsor soldier L/Sgt Matthew Turrall, of The Irish Guards, received the Military Cross for risking his own life to protect Afghan children.