Festival in memory of Anthony Walker killed in Huyton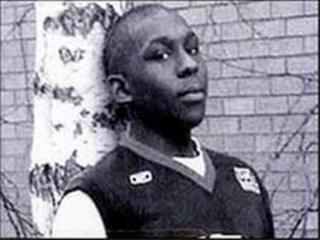 Hundreds of people are gathering to mark the upcoming fifth anniversary of the killing of a black Merseyside teenager murdered in a racist attack.
Anthony Walker, 18, was bludgeoned to death with an axe in McGoldrick Park, Huyton, on 29 July 2005.
A two-day festival of sport, music, art and education, organised by the Anthony Walker Foundation (AWF), is being held in Sefton Park and Greenbank.
Cousins Michael Barton, 20, and Paul Taylor, 17, were given life for murder.
Anthony's family set up the AWF in a bid to eliminate racial discrimination.
Gee Walker, his mother, said: "It is time to celebrate the life of an exceptional young man.
"It's difficult to believe that five years have gone by since my son Anthony was taken and still the pain of loss hasn't diminished.
"However, our faith in God, the help, support and prayers of you wonderful people is enabling us to carry on.
"In the days that followed Anthony's passing, I saw cohesion in action and an insight of what can be realised if only we unite.
"It was a time when all faiths, organisations and races stood side-by-side in disbelief and grieved together. Now is the time to carry unity forward for the sake of the next generation.
"We must remain hopeful that attitudes towards each other are changing for the better."
The work of the AWF will continue as a lasting legacy of the teenager.