Research licence for Manx Basking Shark Watch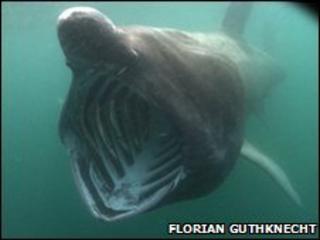 A special licence has been issued allowing researchers to get closer to the endangered basking sharks off the Isle of Man's coast.
Manx Basking Shark Watch is now allowed to collect information about the size and gender of the creatures and also to take samples of slime from their skin.
Experts hope this will enhance the conservation of the species.
The Department of Environment, Food and Agriculture also issued film licences to the BBC and a French film company.
'Important contribution'
The special research licence permits a limited amount of research that may disturb basking sharks, but their habitat and their lives cannot be too disrupted and specialists must not interfere with mating couples.
A Manx Basking Shark Watch spokesman said: "This research has the potential to make an important contribution to the international conservation of basking sharks, justifying slight disturbance of individual animals in the course of the research."
Basking sharks are the second largest fish in the world and their arrival in Manx waters attract both tourists and film crews from all over the globe.