Plymouth city centre store Derry's shuts after 57 years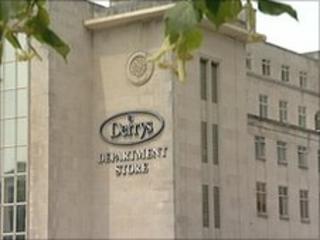 One of Plymouth's best known stores will close its doors for the final time this weekend.
Derry's - which opened as the Co-operative in 1953 - is the latest victim of the economic downturn in Devon.
It was taken over by Vergo Retail Ltd in February 2009, but the company went into administration in May.
Administrators have been unsuccessful in finding a new owner and about 80 employees are being made redundant.
The future of the prominent city landmark is not known.
Clint Jones, Plymouth city centre manager, said although it was difficult to lose such an important store, other stops in the west end of the city could benefit.
"I think it will be a blow, but with every kind of bad thing that comes out of it, there be good things as well.
"People who can no longer buy their products from Derry's will still want to buy and the west end is perfectly served to take up a lot of those customers."
No announcement has been made about four Homemaker stores in Devon and Cornwall which has also owned by Vergo.