Rare dragonfly returns to Cumbria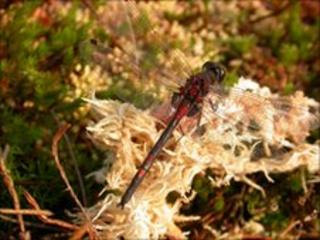 A Cumbrian nature reserve has been selected for the reintroduction of a rare dragonfly into the wild, to prevent it from becoming extinct.
It will be the first attempt of its kind to reintroduce the white-faced darter anywhere in the UK.
Cumbria Wildlife Trust and Natural England have been working together on the project at Foulshaw Moss, near Witherslack.
The dragonfly has only been seen in less than 10 sites across England.
It is hoped the reintroduction would also provide opportunities for the British Dragonfly Society (BDS) to observe its behaviour.
Exciting opportunity
The process will be completed in three annual phases.
Eggs will be placed in buckets of Sphagnum moss, which the larvae of the white-faced darter live in.
If the reintroduction is successful, the dragonfly could be seen at Foulshaw Moss Nature Reserve in spring 2011.
David Smallshire, convenor of the BDS Conservation group, said: "The white-faced darter has been lost from half of its English sites in the last 50 years, so this initiative is an exciting opportunity to reverse that trend."
The decline of the species in the UK is believed to be due to the significant loss of large areas of lowland bogs.