Skeleton Blodwen, aged 5,500, comes home to Llandudno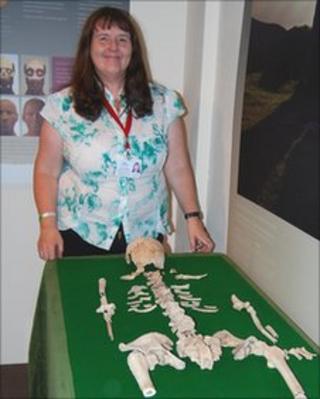 The skeleton of a woman who lived 5,500 years ago has gone on display in her home town, more than a century after she was discovered.
Blodwen is the nickname given to a Neolithic skeleton found on Little Orme in Llandudno, Conwy county, in 1891.
Until now, the remains have been housed at a museum in Bacup, Lancashire.
The exhibition forms part of a three-month tomb builders' display at Llandudno Museum.
It also celebrates the Council for British Archaeology's national festival in the last two weeks of July.
The skeleton was discovered in a fissure by an engineer excavating quarry works, who then donated her to the museum in his home town of Bacup.
Carbon dating tests carried out at Oxford University have revealed that Blodwen died around 3510 BC, aged somewhere between her late fifties and early sixties.
Orthopaedic examinations show that she was about 5ft (1.52m), powerfully built, and her bone structure suggests she was accustomed to carrying heavy loads, both on her head and in her arms.
There are signs, however, that this lifestyle took its toll on Blodwen, with clear evidence of severe arthritis in her neck and knees.
At the time of her death she was also suffering from secondary cancer, although it is not obvious whether it was this which killed her.
Pig bones dating from the same period found close to Blodwen's skeleton would seem to suggest that she came from a farming background.
'Pastoral life'
Shirley Williams, Museum Education Officer for Llandudno Museum, organised the exhibition to form part of the Festival of British Archaeology, including getting the Bacup Natural History Society to agree to the loan of Blodwen.
She, said: "She was found in a deep fissure on the Little Orme, and way down below her were the bones of ancient animals - hyena, rhinoceros, bear.
"She was found midway and above her there was a bronze age spear head but the radio carbon testing found she was actually older than the spear head."
Ms Williams said it would be "great" if she could stay in Llandudno, but said Bacup was very interested in keeping Blodwen.
Adele Thackray, the field monument warden for north west Wales for Cadw, the Welsh heritage body, said: "During the Neolithic period we start to see a cross-over from a semi-nomadic hunter-gathering society to a more settled, pastoral way of life.
"The pig bones found with Blodwen seem to suggest that she was part of this new farming society, and that impression is backed up by isotope tests on her bones which show that she ate more meat and cultivated crops than fish and wild plants."
She added that the manner of Blodwen's burial pointed towards "a more settled society, fixed around a locality".
"Her extraordinary age for the time could also have a lot to do with her memorial - at 60 or so, she would almost certainly have been an elder of her community, and someone who would have been looked up to a great deal."
She also has a presence on both Facebook and Twitter, as Blodwen Chardon, named after the Chardon Trust, which runs the museum.