NHS communications spend 'could pay for more nurses'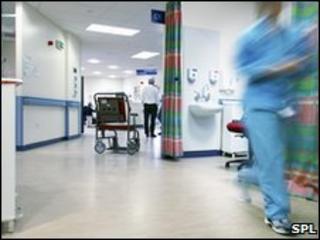 Spending on NHS communications in Scotland should be used to recruit more nurses, Scottish Labour has urged.
The party said about £4m spent on more than 120 press and media staff could pay for hiring 150 nurses.
The spend was revealed through freedom of information requests to each health board in Scotland.
Ministers said budgets were a matter for individual boards but they had been asked to consider restricting marketing to essential campaigns.
Labour health spokeswoman Jackie Baillie said: "I want to see the NHS employing real doctors, not spin doctors, and employing nurses, not press officers."
Ms Baillie accused the Scottish government of forcing the NHS to plan for about 4,000 job cuts, including 1,500 nurses.
She added: "The £4m that is being spent on press and communications should be going on the frontline.
"It could pay the salary and staff costs of 150 nurses. I am sure that most people would agree that this would be a far better use of resources."
The figures showed 125 communications staff were employed in 2009-10 at a cost of £4m - up from 104 staff at almost £3.2m in 2007-08.
NHS Ayrshire and Arran employed nine people at a cost of £239,608, while NHS Lothian spent £366,168 on employing eight staff.
NHS Orkney and NHS Shetland use other organisations, such as a local council, to handle their external communications.
A Scottish government spokeswoman said: "We have made clear that NHS boards need to give top priority to making changes which will save money, without impacting on frontline services.
"While it is the responsibility of boards to determine their press, media and communications workforce and activity, we have asked board chairs to consider restricting marketing to essential public information work to reduce spending.
"It is important to recognise that health boards have a duty to communicate public health information to the communities they serve."
The NHS in Scotland has forecast it could lose the equivalent of 3,790 full time staff over the next year due to cost cutting.
The figure includes 1,523 nursing and midwifery posts and 1,053 administration service jobs.
Health Secretary Nicola Sturgeon has said there would be no compulsory redundancies and the figures "were not set in stone".