Fire breaks out at Sizewell B nuclear power plant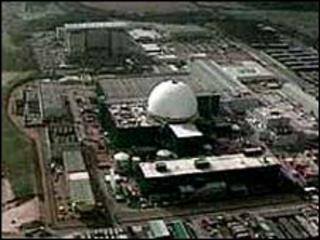 A fire at the nuclear power station Sizewell B on the Suffolk coast was made safe by firefighters after six-and-a-half hours.
The fire broke out just before 2100 BST in the building housing a charcoal absorber which is used to filter out gases.
It was brought under control by 0330 BST after the charcoal absorber was flooded.
Eight fire crews attended the blaze at the power station near Leiston.
'Swift response'
Jim Crawford, Sizewell B's station director, said: "At no time was there any risk to the public and all staff were safely accounted for and nobody has been hurt.
"Our community liaison officer has proactively been in touch with our contacts in the community to reassure them that the incident was safely managed in line with our well rehearsed emergency plans."
A full investigation will take place into the cause.
Sizewell B was shut down for health and safety reasons in March this year and will reopen at a date yet to be announced.
A spokeswoman said the fire would not affect the return to service.