Police attacked during west Belfast riot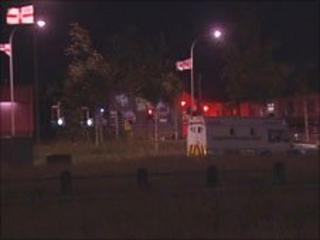 Four police Land Rovers have been damaged during rioting in west Belfast on Friday night.
Officers were attacked by crowds of up to 100 people throwing bricks, bottles and petrol bombs in the Broadway area at about 2030 BST.
Missiles were also thrown between rival groups and a number fights took place at the roundabout.
Police again came under petrol bomb attack after midnight, while missiles were thrown at passing cars.
Officers patrolling in the Bog Meadows area also came under petrol bomb attack.
A number of items believed to have been used in the making of petrol bombs were removed from the area by police.
The trouble stopped at about 0330 BST.
One person was arrested on suspicion of possession of an offensive weapon and another on suspicion of riotous behaviour. Both were released pending a report to the PPS.