Passenger hurt as man wields knife on DLR train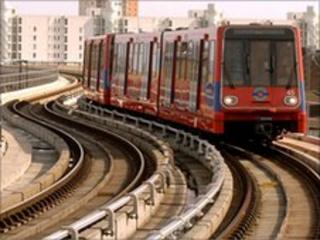 A man is being questioned by police after wielding a knife on a London train and injuring a fellow passenger.
Police said "quite a few" passengers were on the Docklands Light Railway train when the man became disorderly.
All but one, who suffered a minor injury, are understood to have got off the carriage unharmed.
The incident happened just after 0700 BST between Shadwell and Limehouse, in east London. About an hour later the 19-year-old man was arrested by police.
The man is being interviewed by British Transport Police at a central London police station.
Police said one passenger was hurt during the arrest, and the injury was not caused by the knife.
DLR and C2C rail services in the area were suspended, but have since resumed.
Driverless trains
In a statement, the British Transport Police said: "At 8.20am a 19-year-old man was arrested after police received reports that he had a knife on board the DLR service between Shadwell and Limehouse.
"The incident was reported to police at 7.10am. Officers from both the British Transport Police and the Metropolitan Police Service responded."
Docklands Light Railway trains have no drivers. Instead, they are operated through a computerised system at a control centre manned round the clock.
A staff member is on board every train to provide information and assistance, according to the Transport for London website.
All DLR stations and trains have passenger alarms and CCTV and are patrolled by transport staff, it added.