UK paper review - more sporting despair on front pages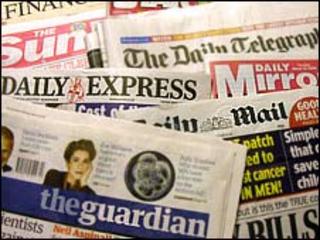 England's failure in football's World Cup has made way for further front page sporting despair, with reports of Andy Murray's Wimbledon semi-final loss.
He is pictured, hand on head, eyes shut during the defeat by Rafael Nadal.
"And so the wait goes on," says the The Daily Telegraph's editorial, bemoaning the "curse" of Britons trying to claim the first men's title since 1936.
The Independent is more philosophical, asking: "What's another 12 months if you've been waiting 74 years?"
The Express says at least there's more chance of Murray winning Wimbledon "some time soon" than England - or Scotland for that matter - winning the World Cup.
'Poor bloke'
Scots are rightly annoyed by the idea Murray is British in victory and Scottish in defeat, says the Guardian.
In the Financial Times, Matthew Engel says the "poor bloke" is sick of hearing about Fred Perry.
It is impossible to imagine Perry playing with anything like Murray's intensity and inventiveness, he adds.
The Times says Bristol University's Prof Paul Gregg, who helped design the system to move people off Incapacity Benefit, warns of an impending crisis.
More support is needed for people with serious health problems who have failed the tough new medical tests, he says.
'Femme fatale'
Meanwhile, the Guardian reports that Labour MPs and disgruntled Tory backbenchers will bid to derail the coalition's electoral reform plans.
It says both want to change the date of the referendum on a new voting system.
The Daily Mail front page tells of the "Spy who came for Christmas".
It features festive photographs of one of those accused of being in a Russian spy ring in the US - Anna Kushchenko - with her British ex-husband's family.
The papers says MI5 are investigating whether she deliberately married Alex Chapman to obtain a British passport.
But Mr Chapman's father, Kevin, says: "The femme fatale... in the papers is not the Anna I know. I feel sorry for her. She must be very frightened."