Brazil fans wince and look to 2014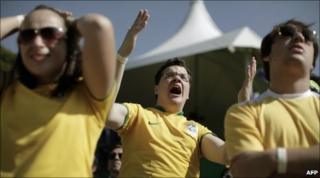 The Anhangabau Valley in central Sao Paulo, where 50,000 people gathered to see Brazil play the Netherlands, fell silent when the match ended with a Brazilian defeat.
But the silence lasted only for a few moments. The band that was ready to play for the victory party loudly started a popular song whose lyrics go something like: "You're worth nothing, but I love you."
Fans at once understood that it was a message to their squad and started to sing and dance.
After all, even in sorrow, this is Brazil.
Home win
From the distance it did look like a joyous party but up and close you could see sad, almost desperate faces, struggling to accept that their favourite squad would be back home earlier than hoped.
Expectations are now high for the 2014 World Cup that is going to be played here.
The squad can expect even more pressure.
"Playing at home, we have the obligation of winning," said lawyer Adriano Antonio, walking away from the giant screen with thousands of other fans.
"I am sure in 2014 we are going to win our 6th World Cup and it's going to be at home."
Football is a serious business in Brazil.
People do not accept from the national squad anything short of a victory.
Even a second place would be considered total defeat.
"I just hope now that the Dutch will win the World Cup," said Mr Antonio.
"At least we'll have been defeated by the best in the world."
'Collapse'
Most fans were excited and confident during the first half.
People on the streets agreed with TV commentators that, in the first 45 minutes, Brazil was on its way to an astounding victory.
But everything changed - on the pitch and among fans - when the Netherlands scored their first goal.
"It was a great game on the first half, then everything collapsed," said bank clerk Tania Armord on her way back to work after watching the match on the square.
All banks shut their doors in Brazil for about three hours for the workers to watch the match.
"The players just couldn't hold their nerves," said Ms Armord.
"Maybe it was also because many of them had never played a World Cup?"
Responsibility
It is true that the squad assembled by coach Dunga did not have as much experience or big names in it as teams from previous years.
Dunga was strongly criticised for leaving behind famous players like Ronaldinho and Roberto Carlos, and rising stars such as Neymar and Ganso.
The coach, who had been slowly winning the trust of Brazilians, resigned right after the match ended and is likely to come under a new barrage of criticism.
But in the Anhangabau Valley, fans were talking of shared responsibility.
"It was not only Dunga the problem," said street-seller Jose Armando, still holding a few Brazilian flags he didn't manage to sell in time.
"The players did nothing in the second half and we must recognize that Netherlands played better.
"What can we do? This is what the World Cup is about and this time we've lost.
"But I am happy that in four years I will see Brazil to be the champion here at home. And I will sell lots of flags."