Presidents celebrate life of US lawmaker Robert Byrd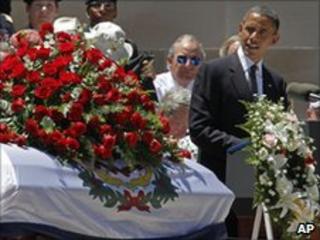 President Barack Obama has paid tribute to Democratic Senator Robert Byrd at a memorial service in West Virginia.
Mr Byrd, who died on Monday aged 92, was the longest-serving member of Congress after 57 years as a lawmaker.
Mr Obama praised his dedication to service, describing him as "determined to make the most of every last breath".
Former President Bill Clinton, Vice-President Joe Biden and other political leaders also joined West Virginians in remembering his achievements.
Mr Byrd was elected to the House of Representatives in 1952, becoming a US senator seven years later.
Speaking at the service at the state capitol in Charleston, Mr Obama said: "I'll remember him as he was when I came to know him, his white hair flowing like a mane, his gait steady with a cane, determined to make the most of every last breath.
"The distinguished gentleman from West Virginia could be found at his desk to the very end and doing the people's business."
As a young man, Mr Byrd was for a brief period a member of the white supremacist group the Ku Klux Klan and also joined Southern Democrats in an unsuccessful filibuster against the 1964 Civil Rights Act.
He later apologised for both actions, saying that intolerance had no place in America, and in his later years as a senator became a champion of civil rights.
Mr Obama made a veiled reference to that history, saying that when he first met Mr Byrd, the senator had spoken of his regret for actions in his youth.
"As I reflect on the full sweep of 92 years, it seems to me that his life bent toward justice," Mr Obama said.
"Robert Byrd possessed that quintessential American quality. That is a capacity to change, a capacity to learn. A capacity to listen, to be made more perfect."
Mr Clinton and Mr Biden both spoke in praise of Mr Byrd's dedication to serving the people who elected him.
Mr Byrd was also an outspoken opponent of the Iraq war and warned against a build-up of US troops in Afghanistan, winning a record ninth term in the Senate in 2006.
As recently as 2009 he was a senior Democrat on the powerful Appropriations Committee.
The senator will be buried in Virginia on Tuesday, next to his wife, Erma, who died in 2006.
His death is not expected to change the Democrats' current majority in the Senate.
West Virginia Governor Joe Manchin, a Democrat, is expected to appoint a Democrat to serve the remainder of Mr Byrd's current six-year term, which expires in 2012.