Gen Petraeus arrives in Afghanistan to lead war effort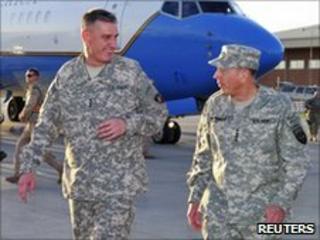 US Gen David Petraeus has arrived in Afghanistan to take command of American and Nato forces fighting the Taliban.
He replaces Gen Stanley McChrystal, who was sacked for making disparaging remarks about senior US officials.
He has promised to use the same counter-insurgency tactics he used in Iraq and that Gen McChrystal introduced in Afghanistan earlier this year.
Gen Petraeus is taking command as some Nato allies are questioning their deployments of troops to Afghanistan.
June saw the highest number of deaths among Nato personnel in the nine years of war - 102, an average of more than three a day.
Attacks on Afghan and foreign military and civilian targets have been increasing in number and sophistication, say correspondents.
Troop surge
Hours before Gen Petraeus arrived in Kabul, five people, including three foreigners, were killed when suicide bombers attacked the office of a US aid organisation in the northern province of Kunduz.
One attacker detonated a car bomb at the entrance to the office of Development Alternatives in the pre-dawn raid.
Five others rushed into the compound and fought with Afghan security forces for about six hours until all were killed or had detonated their suicide bombs.
The Taliban said they carried out the attack.
US troop numbers are about to reach their highest level since the war began in 2001.
The last of an extra 30,000 troops pledged last year are due to arrive in August, bringing the total number of foreign forces in Afghanistan to 150,000, with about two-thirds of those Americans.
A formal takeover ceremony for Gen Petraeus is expected this weekend and he is due to meet President Hamid Karzai in the coming days.
The general has promised to continue with the same strategy his predecessor had begun to use before he was sacked.
It is the same counter-insurgency strategy Gen Petraeus oversaw with some success in Iraq.
Speaking in Brussels on Thursday, he said he had no plans to change current rules of engagement, which limit some uses of force to prevent civilian casualties.
But he said he would look into the application of the rules, which critics say put US troops in danger.
Civilian deaths have been one of the major difficulties in the relationship between Nato forces and the Afghan government.