Outdoor drinkers litter Brighton beach and Hove Lawns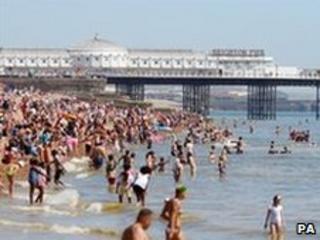 Outdoor drinkers who litter Brighton and Hove with bottles and cans should be reported, a councillor has said.
Brighton councillor Geoffrey Theobald said people holding impromptu outdoor parties in hot weather were spoiling otherwise pristine areas.
He said littering was a criminal offence and people should report offenders to the council or police.
"It's simply slobbishness by selfish people who inexplicably feel someone else should clear up," he added.
'Deeply ironic'
He said each morning after hot weather, council staff had been faced with isolated dumps of refuse on Brighton beach and Hove Lawns.
One heap of rubbish was left on Hove Lawns a few yards from an empty bin, he said.
He added: "It's deeply ironic these people go down to the Lawns or beach because it's a clean, pleasant place and then proceed to mess it up.
"Council staff do a brilliant job cleaning the seafront and Lawns and taxpayers spend millions on it.
"As littering is a criminal offence people should feel free to report such incidents to the police or council if they see it taking place."