Hereford schoolchildren meet Olympic mascot Mandeville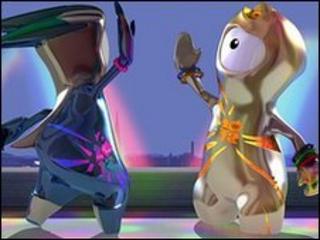 An Olympic Games mascot, Mandeville, has been in Hereford to launch the annual county school games.
More than 1,300 children took part in a warm up session with the London 2012 mascot and former athlete David Moorcroft.
London 2012 organisers unveiled in May two cartoon animations, named as Wenlock and Mandeville, as the mascots for the Olympic and Paralympic Games.
Mr Moorcroft described the Games as "an amazing thing".
He said: "When they [the children] saw Mandeville come into the room, they thought it was wonderful.
"That was kind of for them a little Olympic moment, because over the next few years Mandeville and Wenlock will be so visible and they'll remember the day they saw Mandeville."
The characters are named after the Shropshire town of Much Wenlock - which hosted a precursor to the modern Olympic Games in the 19th Century - and the birthplace of the Paralympic Games, Stoke Mandeville hospital in Buckinghamshire.