Decision soon on Swansea Visteon pensions legal action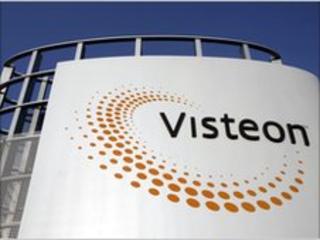 Workers at a former Swansea car parts factory should find out within days if their union will take legal action over their pension fund.
Visteon UK went into administration last year, nine years after it was spun out of Ford, and many who transferred have seen their pensions hit.
Unite's advisers are considering legal action against Ford.
Ford has said it met every obligation to workers when contracts and conditions were taken on by Visteon.
Unite will decide in the next few days whether to proceed.
Frank Connor, 61, who worked at the former Ford components plant for 36 years and left before Visteon went bust, said his decision to take early retirement was costing him dear.
"I was taking a cut every month of over £200," he told BBC Radio Wales' Eye on Wales programme.
"When that's your sole income coming in that's a big lump out of you.
"I'd expected to have a good retirement, enjoy it. But at the moment you can't enjoy it because you're worrying how more money is going to be cut from you."
Mr Connor has been hit by rules that regulate the Pension Protection Fund (PPF), the scheme which pays out compensation to workers whose pensions are hit by firms that go bust.
Full pension
Staff over 65 years of age when Visteon went under receive a full pension, while those under 65 are promised 90% of their entitlement. But that figure reduces for higher earners and early retirees.
Former Visteon worker John Elvins, 57, said: "For the first year I'm actually losing 57% of my pension. At the end of that 12 months it will go back up to 38% reduction of the original level."
"I've already had to start using my savings to supplement my pension. I never foresaw any of this happening, so I have no contingency - other than maybe getting another job," he told Eye on Wales.
When the Pension Protection Fund (PPF) launched in 2005 it was described as a "lifeboat" for workers when their companies went under. But the small print is proving problematic.
Robin Ellison, former chair of the National Association of Pension Funds, said he was worried about the effect of the levy the PPF takes from companies with pension funds to support its pay-out.
He said: "Inevitably something will have to change. They will either have to put the levy up to a level which is unsupportable by most companies or they have to reduce the benefits or the government is going to have to put some more money in."
He added: "At the moment the government doesn't seem to be in the mood to be subsidising other people's pensions. The levy is getting to a stage where it can't really go up very much more without tripping more problems than it solves.
"The guess will be that, over time, the benefits will be cut back gently."
However, new Pensions Minister Steve Webb said any adjustments to PPF pensions would be "an absolute last resort".
He said: "The important thing is that the PPF is a long-term business. It's not like a pot of money where everything comes in this year and goes out this year."
He added: "Even if no more money came in the PPF could go on paying for many years. Some of the workers will be drawing pensions in 20, 30 or 40 years time, so there's plenty of time to get things into balance.
"I think actually the PPF has been doing a good job. It's looking solid and I don't think PPF pensioners need to have worries."
But Mr Connor and Mr Elvins remain worried, which is why they are looking towards their union to take legal action to force Ford to top up their pension fund and bail it out of the PPF pension lifeboat.
However, Ford has said it will resist any legal action.
In a statement the company insisted that it had "met or exceeded its obligations under the 2000 agreement when Visteon became fully independent".
"Ford's obligations to its former employees were fully discharged and Ford believes there is no basis for resuming liability for benefits transferred to Visteon," the statement added.
Eye on Wales is on BBC Radio Wales at 1830 BST on Monday.