Odyssey Pavilion developer files bank writ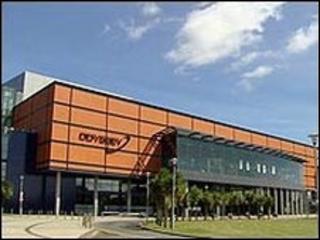 The developer who lost control of the Odyssey Pavilion has launched legal action against Anglo Irish Bank.
Peter Curistan is seeking damages over a collapsed sale of part of the entertainment complex in Belfast.
A writ lodged at the High Court alleges the bank has been negligent. The bank would not comment on his action.
The pavilion went into administration in May in a move which can be traced to a £70m debt owed to Anglo by Mr Curistan's Sheridan Millennium Group.
To address the debt, Anglo had been attempting to broker the sale of the Odyssey Pavilion's long-term lease for almost two years, but without success.
KPMG were appointed administrators in May and are searching for a buyer to take over the lease.
An Odyssey spokesman said: "This is a matter between the former tenant of the Pavilion and Anglo Irish bank and does not involve the Odyssey Trust.
"Our interest as the guardians of the entire Odyssey complex is to ensure that the administrator is given the opportunity to conclude his work so that the Pavilion can receive new investment under new ownership as quickly as possible."