Technology in schools: Is the clock being turned back?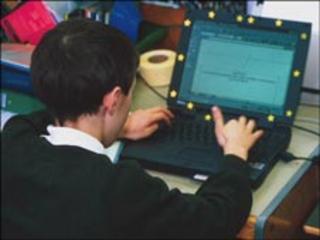 Is the government's attitude to computer technology in schools taking us back to a "dark age" of chalk-and-talk?
That is the fear of many in education who think the coalition government's actions are turning back the clock on recent developments in the use of computers for learning.
First there was the decision to abolish Becta, the agency that advises schools on Information and Communication Technology (ICT).
Then there were speeches on the curriculum given by the new Education Secretary, Michael Gove, which focused entirely on traditional subjects and were silent about ICT.
Then the government scrapped the Rose Review recommendations for primary schools, which had proposed putting ICT at the core of the curriculum.
Vast savings
And just this week, the Schools Minister, Nick Gibb, in a major speech on the curriculum, did not mention ICT at all.
But for many the straw that broke the camel's back was an announcement slipped out quietly as part of the government's "free schools" policy.
This said that to provide capital for these new parent-run schools, the government was taking £50m from the Harnessing Technology Fund for schools.
This fund provides money to improve schools' broadband connectivity, computer hardware and software and the sums involved represent a quarter of the total investment fund.
This came as a nasty shock to Mike Prince, head of Staveley CE primary school in Cumbria.
He regards a fast broadband connection as essential not only to children's learning, but also for keeping in touch with parents in a rural area.
He says "to have the rug pulled on us mid-year leads me to think it's either being done unwittingly or, more sinisterly, because the government has decided that these things are no longer important".
After the recent push for parental engagement and rural schools connectivity, he says, it "feels like we are on the edge of the dark age".
Others too have detected more to this than simply the need to make financial savings.
Before the election, Merlin John - a journalist who specialises in technology and learning - tried to get details of the Conservatives' policy on ICT.
However, after a series of e-mail exchanges over almost two years, he failed to receive anything concrete from Conservative Party headquarters.
So, the question that is worrying many in education is whether the government is making these cuts reluctantly in order to avoid hitting core school budgets or whether it is indifferent, or even hostile, to ICT in education?
Some defend the government, saying spending cuts are inevitable and ICT must accept its share.
Others believe the ICT revolution in schools has achieved its aims.
Tech-savvy youngsters
They say all schools are now switched on to technology's role in learning and no longer need the support of external agencies like Becta.
Certainly one primary school IT manager from the Midlands told me he was delighted at the demise of Becta, which he regarded as "a thorn in my backside".
He found much of Becta's advice patronising and out-of-touch.
He believes schools are better off with in-house technicians who are familiar with their problems and know the staff and pupils well.
There is also the argument that children today are now so familiar with computers and so tech-savvy, often knowing more than their teachers, that they no longer need to be taught ICT.
But many experts disagree.
Chris Scarth, a supplier of ICT to education, argues that Becta drove forward technology in schools in areas like whiteboards, laptops for teachers and broadband.
But now he believes the government is "apathetic" and "sooner or later this will rub off on schools".
Policy vacuum
He says it is not so much that the government is anti-technology but that there is a "lack of guidance and a growing void in communications".
He fears we will end up with a two-tier school system: those with "switched on individuals" that drive forward ICT and those looking for support that is not available.
Mr Prince takes a similar view. He fears that without government support for ICT it will be like the 1970s when pupils only did science in primary school if their teacher happened to be a science enthusiast.
Paul Wareing, a former Becta employee, believes the agency is being scrapped because it is "totemic of New Labour".
He believes the country is about to lose something that is "the envy of the world" and whose practices and guidance are copied globally.
As evidence of its success, he points to the laptops for teachers scheme, communications aids for special needs pupils, and central procurement deals with the likes of Microsoft that saved "vast amounts".
My enquiries at the Department for Education this week failed to elicit any clear policy on ICT.
However, a government response to Mr Wareing about the closure of Becta stated: "the government needs to maximise the resources that get to the front line... schools are best placed to make decisions about how to use the resources available to them... and the government is committed to moving away from top down intervention".
Becta has produced several research reports to show the benefits of ICT on learning.
However, in case their viewpoint is regarded as self-serving, it is worth looking at research from elsewhere.
Balance
Research from the US Department of Education, concluded that "students who took all or part of their class online performed better, on average, than those taking the same course through traditional face-to-face instruction".
It also found that "instruction combining online and face-to-face elements had a larger advantage relative to purely face-to-face instruction than did purely online instruction".
In short, a balanced use of both ICT and traditional learning achieves the best results.
If the government does not believe its own agency, perhaps it will listen to the evidence from abroad?
Mike Baker is an education journalist and broadcaster