Shakespeare-theft accused man 'owned' 1627 Latin book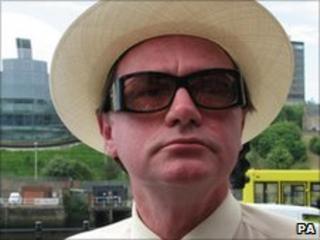 The trial of a man accused of stealing a £1m Shakespeare folio has taken a twist after he handed an antique Latin dictionary to police.
Raymond Scott, 53, of Wingate, County Durham, is on trial charged with stealing a Bard work from 1623.
But on Thursday night he handed a 1627 dictionary to Peterlee police claiming he had bought it in Cuba.
He said he did not know whether the book was stolen, Newcastle Crown Court heard on Friday.
Mr Scott is accused of stealing the Shakespeare book from a glass cabinet at Durham University in 1998.
The hearing heard how he now accepted the folio was stolen but that he did not take it.
The jury has also heard how he kept the 17th century book at his house for a decade before taking it to the famous Folger library in Washington DC where staff called police.
He was hoping to sell it at auction and share the money with friends in Cuba, the court has heard.
Mr Scott denies stealing the Shakespeare book and handling stolen goods.
The Latin dictionary, which Mr Scott gave to police on Thursday night, was shown to the jury.
The trial continues.