Archdruid T James Jones installed at Wrexham eisteddfod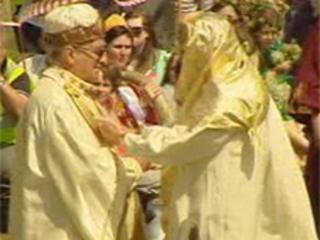 The new archdruid of Wales has been installed as part of National Eisteddfod ceremonies in Wrexham.
The poet and playwright T James Jones succeeds the previous archdruid, Dic Jones, who died in 2009.
More than 1,000 people marched through Wrexham in the proclamation ceremony, highlighting that the town will host the 2011 National Eisteddfod.
Saturday's events include dance, song and instrumental performances by a number of local schools.
The Gorsedd of the Bards formed a procession through the town as part of the festival being held on Llwyn Isaf and Queens Square.
Mr Jones, whose bardic name is Jim Parc Nest, won the National Eisteddfod crown twice, and was the chaired bard at the Flintshire Eisteddfod in Mold in 2007.
Wrexham hosts the National Eisteddfod in August next year.
'Taste'
The proclamation festival includes handing the archdruid a copy of the list of competitors at next year's event.
National Eisteddfod chief executive Elfed Roberts said he hoped the proclamation festival would "give the people of Wrexham and the local area a taste of what's to come".
He said: "We are delighted that such a large number have responded to the invitations sent out to local schools, clubs and societies to take part in the proclamation festival."
This year's National Eisteddfod will be held on the old steelworks site on the outskirts of Ebbw Vale, Blaenau Gwent, from 31 July - 7 August.