Thousands join Glasgow Orange Parade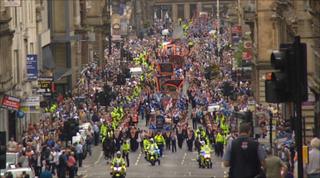 Up to 8,000 marchers have joined in Scotland's largest Orange Parade in Glasgow.
The event got under way with a wreath-laying ceremony at the Cenotaph in George Square.
The procession's route took it through the city centre to finish with a rally at Glasgow Green.
The Orange Order said 90 bands from 182 lodges were taking part. Orange Order marches were also taking place in other parts of Scotland.
In Greenock more than 2,000 people gathered from 78 lodges in the area for the march to Battery Park.
Alex McCaig, county grand secretary for Ayrshire, Renfrewshire and Argyll, took part in the march.
He said: "The locals are very friendly and there's been no trouble. It's very important to hold these annual marches because it is part of the history of Scotland.
"This year is also the 450th anniversary of the Scottish Reformation and we have banners with that on as well."
Police and the Orange Order warned those attending events that bigoted behaviour and public drunkenness would not be tolerated.