Medway Council leader puts anti-airport plan to new MPs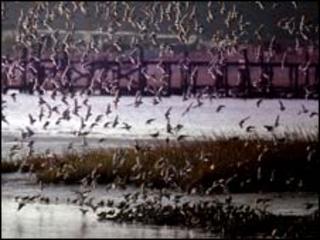 The leader of Medway Council has written to new MPs to ask them to support a campaign opposing a planned £40bn airport in the Thames estuary.
London Mayor Boris Johnson is considering building an airport several miles off the Essex and Kent coasts.
The RSPB, Medway Council and Kent County Council have previously said the plan would "devastate the environment".
Medway Council leader Rodney Chambers said new MPs could provide more support for the campaign.
'Pie in sky'
He said: "Now that we've had a general election, and there are a number of new Members of Parliament, it is a good opportunity to seek even more support than we already have in our campaign.
"Today, I am writing to the MPs who represent those areas that would be affected by an estuary airport to encourage them to join me in opposing this pie-in-the-sky scheme."
He said the plan would turn parts of Medway and Kent into a concrete jungle.
The airport would also disrupt the environment off the Hoo peninsula, which included protected sites that were used by hundreds of thousands of migrating birds, he added.
Mr Johnson has opposed the expansion of Heathrow Airport but has said "further runway capacity" is vital and regards "Boris Island airport" - as the Thames estuary plan has become known - as a viable solution.
Engineers have said the airport could accommodate possibly up to six runways.