Big Brother audience evicts Sunshine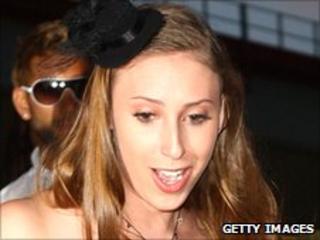 Medical student Sunshine has become the third person to be evicted from the Big Brother house, after losing the public vote to Shabby and Caoimhe.
The 24-year-old from Peterborough, Cambridgeshire, whose real name is Yvette, smiled as she emerged from the house to cheers from the crowd.
Dave was originally nominated alongside Shabby and Sunshine but won a task, letting him put Caoimhe in his place.
Rachael and Govan had already lost their places in the Channel 4 show.
The public's decision means student Caoimhe and Shabby remain in the house, where they have become close. Shabby, 24, has admitted her feelings run deeper than friendship.
Sunshine said she thought she had been nominated by her fellow housemates for "not sharing my crisps" in a row which host Davina McCall dubbed "crisp-gate".
She received 42% of the votes cast, with McCall telling her that it was a closely fought race between her and Dubliner Caoimhe.
Stand-up routine
Before she left the house, fellow housemate Ben had to perform a 90-second stand-up routine to the Big Brother audience to win a luxury shop for the house.
TV viewers had to wait five minutes to see his efforts, however, as a power failure led to transmission of the programme being cut.
Ben, 30, told jokes about mobile homes and having similar hair to Margaret Thatcher in the routine which went down well with the crowd, leading to him winning the task.
The performance, to coincide with International Joke Day, was also a punishment for Ben failing an earlier task during the show, which has been running for three weeks.
This year's Big Brother is the reality show's last series.
The winner of the current crop of housemates will be joined by previous winners and notable contestants to determine the ultimate Big Brother champion for a two-week special to mark its departure.