Devon pigeon racer calls for peregrine falcon cull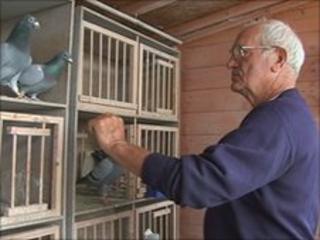 A pigeon racer from Devon is calling for a controlled cull of birds of prey.
Frank Mercer, from Shillingford, near Tiverton, said drastic action was needed because so many of his birds were being killed by peregrine falcons.
He said that, until about 10 years ago, there were few problems but they now attacked his birds constantly.
He said all but one of his 24 birds was killed in 2009. The RSPB said the predators were protected and warned that killing them was illegal.
Mr Mercer, who has raced pigeons since he was a boy, said he was taking a gamble every time he let his pigeons out.
But the RSPB said any attempt at a cull would be misguided.
Tony Whitehead, of the charity, said: "The way we look at birds of prey is that it's just another part of the environment.
"If you have a leisure interest and you put pigeons out there, the consequence is that some of them will be taken by birds of prey."