Ex-Gwynedd councillor jailed for wounding wife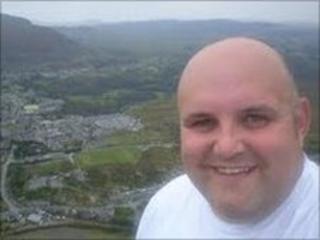 A former Gwynedd councillor who attacked his wife because he believed she was seeing a political rival has been jailed for four-and-a-half years.
Gwilym Euros Roberts, 40, admitted wounding with the intention of causing grievous bodily harm in the April attack on his estranged wife Catrin.
She suffered a broken nose and deep cuts to her hands in the attack at their Blaenau Ffestiniog home.
Roberts's barrister said he had attacked in "a moment of anger".
'Dialled 999'
Prosecutor Elen Owen said on the night of the attack Mrs Roberts had been at home when Roberts managed to get into the house.
He said Mrs Roberts dialled 999 for the police but the former councillor appeared in a bedroom with two kitchen knives.
Mrs Roberts was pushed back on a bed and he tried to stab her repeatedly, he said, but she was protected by a thick nightdress.
The court heard that Roberts punched her in the face, grabbed her hair and banged her head against a wall.
"She believed she was going to be killed and told him she still loved him and pleaded with him to stop," Mr Owen said.
Defence barrister John Wyn Williams said they had been happily married for many years.
He said: "Obviously the motivation for the offence is he had found out that his wife was in a relationship with another man.
'Obviously repentant'
"He's obviously repentant about what he did to his wife. He lost his head and attacked in a moment of anger. He's full of remorse."
Mr Roberts had been a member of Llais Gwynedd, a breakaway party from Plaid Cymru, representing Blaenau Ffestiniog on Gwynedd council. He resigned his position last May.
To win his seat he had defeated Dylan Richards, chairman of Blaenau Ffestiniog town council, by 51 votes in county council elections two years ago.
Mr Roberts believed his wife was having an affair with the married Mr Richards.
But Mrs Roberts has denied she was having a relationship with him. She has said they shared a bedroom at a Snowdonia hotel, but insisted there was no intimacy and they were simply supporting each other after marriage problems.
Gwynedd councillor Alwyn Gruffydd said after the case: "This has been a personal tragedy for all those involved as their lives have been destroyed by a moment of madness.
"Personally I found Gwilym Roberts a trustful colleague and hardworking and conscientious local politician. I'm saddened by the circumstances that led to the court appearance."