Fire crews put out Cambridgeshire scrapyard flames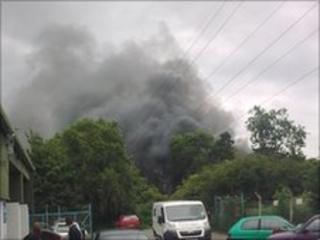 A large fire at a scrapyard in Cambridgeshire has been put out.
Emergency services were called to DK Salvage in Third Drove, Fengate, at about 1000 BST.
A nearby office block was evacuated and roads closed while fire crews fought the flames. It was put out by about 1130 BST and roads have been reopened.
The fire service said it was believed the fire started in a workshop and spread to the scrapyard which contained metals, cylinders and vehicles.
Ady Slack, incident commander, said: "When we arrived the workshop and scrapyard were well alight. The office block was in close proximity and this was immediately evacuated.
"As there are cylinders on the site, there have been a number of explosions."
No one was injured by the fire an investigation to determine the cause of the fire is now taking place.