Children in Kent schools meet Atlantis astronauts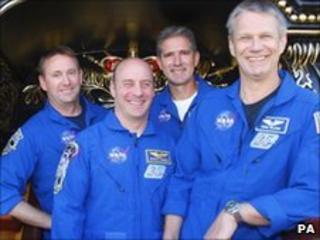 Hundreds of schoolchildren in Kent have had the chance to meet astronauts from the last US Atlantis shuttle mission.
Crew members of the shuttle, which returned to Earth on 26 May, visited about 20 schools in the county on Friday as part of a tour of the UK.
Piers Sellers, who grew up in Sussex and went to Cranbrook School, Kent, is among the astronauts on the tour.
Commander Ken Ham, who led the Atlantis mission, said it was a fantastic experience, with a tremendous crew.
He said children in the UK were very enthusiastic about meeting the astronauts.
'Study everything'
"Every audience of kids is different, but every one of them understands what they are seeing and appreciates that maybe there is a real goal out there in life that they can attain.
"The real lesson we are telling them is to find something in life that you are passionate about.
"Most of these kids are in their teens - our message is continue to study everything.
"Right now they don't really know what they want to do but if they keep their options open when they do figure it out they can take those options."
Cdr Ham was visiting Cornwallis Academy in Maidstone, while his wife Michelle, an astronaut trainer, was at Knockhall Primary in Greenhithe.
She said she experienced a mix of emotions when watching her husband go into space.
"If I said I wasn't a little bit nervous I would be lying.
"But I started off in Mission Control and I that expect other people on the ground are going to do their job and bring my husband back safely."
In Tunbridge Wells, pilot Tony Antonelli planted a tree at the boys' grammar school.
The tree was cloned by East Malling Research from the one under which Isaac Newton was supposed to have sat when he developed the idea of gravity.
Atlantis has carried out 32 space missions. Its final 12-day trip took it to the International Space Station to deliver a Russian module.
Only two further shuttle flights remain, by Discovery and Endeavour, which Nasa hopes to complete this year.