Warning over chewing gum dropping in West Lancashire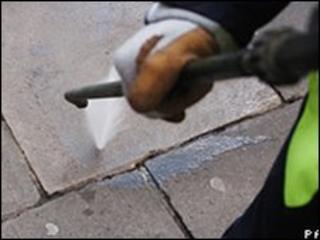 People who drop chewing gum on the streets of west Lancashire will face a fine of £75, the council has warned.
The local authority said pavements in Ormskirk town centre had been "blitzed" and they were now targeting Burscough, Aughton, Skelmersdale and Up Holland.
Special "street scene officers" have also been deployed to catch offenders in the act.
Councillor Paul Greenall described dropping gum on to the ground as a "disgusting habit".
Workers are using a power-jet water cleaner to blast stuck gum from paving flags.
The chewing-gum clean-up will take place on Sundays when the areas are quiet, a council spokesman said.
Mr Greenall added: "Dropping gum in the streets is an offence.
"We know that local people want to see the streets clean and tidy so while we carry out this special clean-up operation we are also warning people that our street scene officers will be watching."