Storm delays oil capture vessel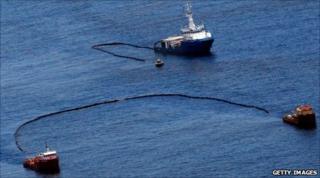 The use of a new vessel to capture oil from the Gulf of Mexico spill site has been delayed by tropical storm Alex.
The Helix producer ship was expected to be taking oil from the well by the end of June, but it will now not be working until the middle of next week.
Once the vessel is working it has been predicted BP will be capturing 53,000 barrels of oil a day.
There are also plans to use a giant tanker, refitted to scoop up oil, at the spill site.
The ship known as "A Whale" is waiting for approval to join the clean-up.
Alex, briefly classified as a hurricane before being downgraded to a tropical storm, has stopped clean-up efforts in much of the Gulf.
Small skimmer boats, in particular, have been unable to operate in choppy seas and have had to return to shore.
At the spill site the two current capture vessels have continued to work, despite the bad weather.
But the plans to connect the vessel Helix to the "kill" valve on the blowout preventer device on the top of the well have been delayed.
"We will need about three days after the weather calms... for that vessel to be able to hook up to the flexible coupling that it would be required to do," incident commander Thad Allen said.
The newly-retired Coast Guard admiral played down suggestions that there was a lack of transparency in the release of information about the efforts to deal with the spill.
'Debunked' myth
There has been criticism - in a report from Republican Congressman Darrell Issa - that offers of help from outside the US are being delayed. It has been alleged that an offer of four skimmer boats from the Dutch government on 30 April was not approved for seven weeks.
Reacting generally to the allegations of delays to foreign help, the White House Spokesman Robert Gibbs said: "That is a myth that has been debunked hundreds of times."
Meanwhile, scientists have raised concerns that oil is entering the food chain.
Researchers from the University of Southern Mississippi and Tulane University found oil in the postlarvae of blue crabs entering coastal marshes along the Gulf Coast.
Tests are still going on to establish whether the oil is from the Deepwater Horizon spill.