£11m compensation awarded to 7/7 victims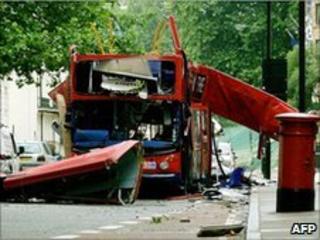 Victims of the 7 July attacks have received £11m in compensation so far, the Criminal Injuries Compensation Authority (CICA) said.
It confirmed it had received 650 compensation claims relating to the 2005 London bombings, and that seven people were still awaiting settlement.
A CICA spokesman said it was "committed to resolving applications as quickly and sensitively as possible".
The fifth anniversary of the attacks will be marked on Wednesday.
Four suicide bombers killed 52 people when they detonated devices on three Tube trains and a bus in London.
Some of the payouts are understood to have been for the maximum £500,000 payable under the criminal injuries compensation scheme.
'Full medical prognosis'
There were 71 rejections, either because the applicant was not an actual victim of the attacks or because their injuries were not severe enough.
The spokesman added: "CICA received 650 claims for compensation in the years following the London bombings.
"The vast majority of these have been settled and we have made interim payments in every outstanding case. To date, we have paid £11m in compensation to the victims of 7/7.
"It is often in the best interests of victims that we don't settle a claim too early.
"It can sometimes take years for a full medical prognosis to become clear, particularly where we need to make detailed assessments of things like loss of earnings."
CICA is still investigating five cases, and another two people are currently considering its decision.