Toll road suggestion for Kingskerswell bypass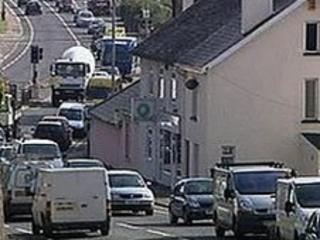 A South West England MEP has suggested that the Kingskerswell bypass in Devon should be built as a toll road.
Giles Chichester said the bypass should be built by the private sector to ensure the road was built after 50 years of debate.
He said that a toll road was "an alternative way of doing it".
Last month, Transport Minister Norman Baker said the £130m bypass could not be guaranteed despite it being approved by the previous Labour government.
'Foiled time and again'
Mr Chichester said he was making the suggestion because people had been "waiting decades to build this road which is of crucial importance".
He said: "We've been foiled time and again and it seems to me we should think out of the box and get the private sector to build it and use it as a toll road.
"It's been done elsewhere, so it's possible and it's better than having no road.
"It's not just the people of Devon, it's all the visitors and we don't want to put them off by sitting in a massive traffic jam."
Mr Chichester said that the toll road would be constructed in addition to the current roads so that motorists would not be forced to use it.
Plans for the controversial bypass - which have been ongoing for more than 50 years - have split the community.
Those in favour claimed it was vital to the economy. Those against said it would destroy the village of Kingskerswell.
Mr Chichester said he did not have the knowledge to estimate the cost of the toll, but said it would probably be more than the £1.50 charged for use of the Tamar Bridge linking Devon and Cornwall.
Mr Chichester added: "The other way is to wait until some public money might be available, in what, 30 or 40 years time."
Although previously approved, Minister Norman Baker said the south Devon link road scheme could be a victim of the coalition government's cuts "in the light of a tough spending review".
Devon County Council, which has been involved in the scheme, said: "The Department of Transport has explained it will not be taking forward any funding decisions on scheme approvals until the conclusion of the Government's Spending Review in the autumn."