School building plan facing cuts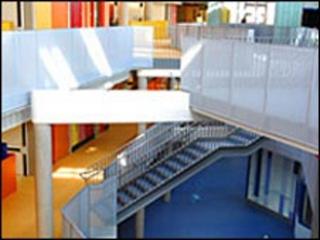 The government is expected to announce substantial cuts to a £55bn plan to rebuild England's schools.
As many as 700 school re-building projects across the country could be cancelled by the coalition government.
Some 180 schools have been rebuilt or revamped under Building Schools for the Future (BSF) programme since 2004.
Separate reductions to the education budget are also expected to be announced on Monday.
More than 1,000 schools are in the pipeline for re-building and have been subject to a government efficiency review.
The government argues BSF has been beset by red-tape and delays, and critics say the scheme is over-ambitious and poorly planned.
But shadow education secretary Ed Balls said its cancellation would be "disastrous news" for hundreds of thousands of teachers, parents and pupils who had been expecting much-needed investment in decent 21st-Century facilities.
Schools, councils and building contractors have also been waiting for an announcement.
It is hoped that the detail of which projects are to be cancelled will be given.
The government is also due to set out its future priorities on funding for capital projects later on Monday.
Recession
The Education Department could be forced to make savings of up to 25%.
And further cuts to the education budget are to be announced by the Treasury on Monday, in addition to the review of building projects.
Labour had planned to spend £6.5bn on investment in school buildings in 2009-10, as part of programmes such as BSF and the Primary Capital Programme.
But an estimated £55bn was to be spent on the 20-year BSF project to refurbish England's 3,500 secondary schools by 2023.
So far, 180 schools have been completed. Another 231 projects are at what is known as "financial close", where work has begun or is close to beginning.
But a further 1,100 secondary schools have invested time and money on applying for BSF money.
Carshalton High School for Girls head teacher Vivien Jones says the thought of losing her project to reduce temporary classrooms and boost learning with new technology would be "devastating".
'Tea leaves'
Construction experts say public sector building projects have helped sustain building companies through the recession.
Building magazine news editor Tom Bill says the industry has been in a vacuum.
"Since the election, the industry has been in an overwhelming state of limbo," he said.
"There has not been much clarity from local authorities or central government. Contractors have been trying to read the tea leaves."
MPs from across England have been pressing the government to make its plans known.
Labour MP Emma Reynolds says schemes at five secondary schools in her Wolverhampton constituency are badly in need of up grading and are waiting for news.
"Our schools have been expecting the investment and they are worried that the rug will be pulled from under them," she told the BBC News website.
Capital budgets around the UK are under similar pressures. In Wales, £667 million of assembly government money was invested in school buildings between 2004 and 2008.
Further investment will be announced in the summer, but the government has warned it will be looking at "more effective, strategic funding based on need" and and a move away from "spreading the butter thinly".
Last week Northern Ireland's Education Minister Caitriona Ruane said the future for new school buildings was bleak, unless she got extra money.