Dolphin watchers spot leaping calf off New Quay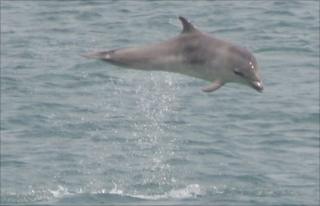 Dolphin watchers in Cardigan Bay have been given a treat after spotting a leaping calf.
The marine conservation charity Sea Watch said the animal, which was seen in New Quay harbour, in Ceredigion, could have been only a few days old.
The calf was joined by its mother and two others, and they were seen leaping out of the water.
Sea Watch is urging people to take part in its annual whale and dolphin watch, which runs from 7 to 15 August.
The dolphin and calf were sighted in New Quay harbour on Monday lunchtime.
"We thought they were feeding. They were rapidly joined by two other adults and there was a lot of splashing around," said Sea Watch research assistant Danielle Gibas.
'Newborn's life'
"They all then moved to the western side of the harbour before going out of sight. The calf started leaping when all four dolphins joined and continued to do so regularly - up to 10 times during this sighting."
Ms Gibas added: "When a calf is in the womb it is folded so that its tail is near its head.
"This creates lumps and folds in the animals blubber. Within the first week of a newborn's life, these folds are very visible and they fade with age.
"The foetal folds on this calf are quite strong suggesting that the animal may be quite young".
Sea Watch, which is based in New Quay, wants people to send photographs as part of its annual whale and dolphin watch to photo@seawatchfoundation.org.uk
It prefers to see details of nicks and markings on fins so the pictures can then be compared to others held on a national indentification database.