'Bullying' claims at hospital in Kettering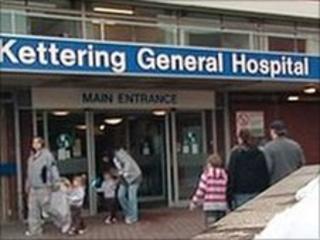 Concerns about bullying have been been raised by some workers in a survey of staff at Kettering General Hospital.
The hospital has said it will use the survey to improve the service and it had already extended counselling services for work-related stress.
The annual survey of NHS staff highlights some of the most negative and positive comments.
Some staff said the hospital was "a superb place to work" but others had "bullying and harassment" concerns.
'Trust no-one'
One told the survey, which appeared in a report to the board of directors of the hospital: "Bullying is ignored... We can trust no-one."
Another said: "Staff are treated like 'a number' rather than a valuable member of staff."
The hospital's director of human resources Geoffrey Etule said: "Overall in the 2010 NHS staff survey we scored at or above the national average in 55% of the areas surveyed and below the average in 45% of the areas."
He said the report "deliberately distilled some of the most negative - and the most positive - comments" to learn from them.
"Some of the comments listed are fair, some of them are unfair, and some are contradictory - however we are committed to looking at all of the areas of concern raised," he said.
"Some of these comments highlight areas where we know that we can improve - for example in the way we communicate with staff, helping them to manage work pressures."
The hospital said it would bring in communication skills training for managers and foreign staff.