Man guilty of £250m scam to 'sell' London's Ritz Hotel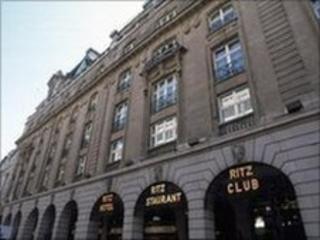 A jobless lorry driver has been convicted of an "ambitious scam" to sell London's Ritz Hotel for £250m.
Anthony Lee, of Goole, East Yorkshire, found victims who were interested in the hotel and conned them with false promises until they handed over £1m.
The 49-year-old was found guilty of obtaining a pecuniary advantage by deception at Southwark Crown Court.
Judge Stephen Robbins told Lee he faces an "immediate and quite substantial custodial sentence".
The prison term will be handed down on 27 July.
Det Sgt Garry Ridler, who led the two-year investigation for North Yorkshire Police, said: "This man is your typical fraudster."
"He gains the trust of people through lies and once he's got them under his control, he extracts the money from them.
"Not happy with the million pounds, he decided to go back for more."
The jury took 14 hours of deliberations to reach its verdict at the end of a four-week trial.
Retired Patrick Dolan, of Philip Lane, Tottenham, north London, was cleared of the conspiracy charge.
On Thursday, solicitor Conn Farrell, 57, from Aldershot, Hampshire, was also cleared of trying to fraudulently sell the hotel.
The court heard how Lee, of Broad Lane, was at the heart of the con which was based on "one great big lie".
He convinced potential buyer Terence Collins that he was a "close friend and associate" of the reclusive billionaire Barclay brothers, owners of the prestigious hotel in Piccadilly.
'Targeted and ambitious'
Anuja Dhir QC, for the prosecution, told the jury of nine women and three men: "The deal that sounded too good to be true was a complete fantasy."
The "simple but well-targeted and ambitious scam" offered the victims a tempting bargain encouraging them to hand over £1m, Ms Dhir said.
In December 2006, Mr Collins sought the support of Dutch financier Marcus Boekhoorn, of Apvodedo, to finance the £1m payment, telling him that the reclusive Barclay brothers' reasons for selling The Ritz through a third party were "secretive".
But the sale never happened, the promised paperwork never materialised, and the money was never returned.