Jackie Selebi: South Africa's 'corrupt' police chief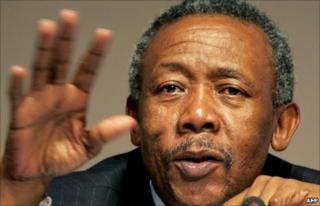 Jacob Sello Selebi - better known by his nickname of Jackie - has been at the centre of controversy since he was made South Africa's first black commissioner of police in the year 2000.
He has now been found guilty of corruption in what has been described as one of the defining trials of post-apartheid South Africa.
He was appointed to head the police force after having served as South Africa's permanent representative at the United Nations in Geneva for three years and then as director general in the Department of Foreign Affairs.
A political appointee, he had no previous experience in policing.
Soon after taking up his post, Selebi got into trouble after a black policewoman claimed he had called her a chimpanzee.
He caused another stir when he recommended that prostitution should be legalised for the duration of the 2010 football World Cup.
Agliotti connection
But it his links to organised crime that has caused such a stir and saw him go on trial accused of accepting bribes worth 1.2m rand ($156,000, £103,000).
The storm began when he admitted to being a friend of Glenn Agliotti.
Agliotti, a convicted drug smuggler, is the man arrested in connection with the highly publicised assassination in 2006 of controversial mining magnate Brett Kebble.
True to his forthright nature, the 60-year-old defended his association with Agliotti, saying he had the right to choose his friends and that they never discussed crime when they met.
He denied the charges, saying they are part of a conspiracy to frame him by the National Prosecuting Authority.
Selebi was known for his sharp suits and Agliotti told the court that he had bought designer clothes for the then police chief and his family.
Former President Thabo Mbeki, who is said to be close to Selebi, at first resisted calls for his police commissioner to be fired, saying he would not take any action until evidence of any wrongdoing was brought before him.
But Mr Mbeki finally gave in to the pressure and suspended his police chief in January 2008 shortly before Selebi was formally charged.
He had earlier resigned as president of the international policing agency Interpol, which elected Selebi as its president in 2004.
Interpol had also initially stood behind its head, saying he was a competent man who had done a lot to improve the image of the organisation.
Selebi has long been involved in politics.
He was a representative of the socialist-leaning World Federation of Democratic Youth in Budapest, Hungary between 1983 and 1987.
He also served as head of the African National Congress (ANC) Youth League while in exile in Zambia during the apartheid era.
After he returned home in 1991, Selebi was responsible for the repatriation of ANC exiles.
He was elected to parliament in South Africa's first democratic elections in 1994 but did not stay there long before moving on to represent his country at the UN in Geneva.
The former police chief now faces a sentence of at least 15 years in prison.