Homes remain evacuated after Garforth waste depot fire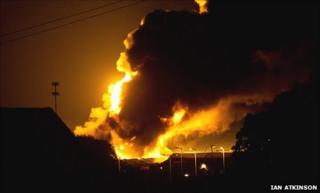 Residents forced to leave their homes after a fire broke out at a waste depot near Leeds are still waiting to return.
About a dozen firefighters remain at the WasteCare site in Garforth. The cause of the fire, which began on Thursday morning, is still unknown.
The nearby Holiday Inn was also evacuated but had reopened by Friday morning.
Most roads which were affected have reopened. A partial closure on the A63 remains.
West Yorkshire Police said residents who were evacuated from Hawthorn Terrace had been able to collect personal belongings but would not be allowed home until "things returned to normality".
West Yorkshire Fire Service said firefighters were continuing with the damping down process and were expected to be at the site all day Friday.
Fire investigation
A spokesman said an investigation would begin once the fire was fully extinguished.
Residents in the Garforth area have been advised by the Health Protection Agency to remain indoors and keep windows closed if smoke continues to be a problem.
A total of 150 firefighters tackled the blaze, which started just after midnight on Thursday.
Three firefighters were admitted to hospital for a check-up. The blaze had been brought under control by 1300 BST.
Guests at the Holiday Inn spent the night at other hotels and houses in Hawthorn Terrace were evacuated.