176-year-old Roberton Primary closes its doors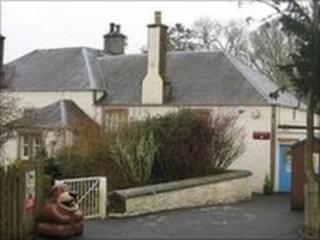 A 176-year-old Borders school has closed its doors for what is likely to be the final time.
Roberton Primary, near Hawick, has been left with no pupils after the last three decided to transfer to partner school Drumlanrig in August.
Scottish Borders Council is currently consulting on whether to mothball the site or close it permanently.
Education has been provided from the building since 1834, three years before Queen Victoria came to the throne.
At its peak Roberton Primary boasted 22 pupils serving the rural community, but over the years that number has dwindled.
'Special place'
Head teacher Jeanette Gordon said: "We had a garden party to mark the final day of term at Roberton and it was quite an emotional occasion.
"The school will not be opening in August and the council and the community are currently discussing the long-term future.
"It is quite sad when there is the prospect of losing something which means so much to people."
She said one teacher at the garden party had worked at Roberton for 22 years.
"There were a lot of memories shared with pictures and memorabilia dating back to the 1930s," said Ms Gordon.
"It is the oldest school building in the Borders and quite rightly it is regarded as a very special place."
Scottish Borders Council is currently evaluating the results of its month-long consultation period with the local community on the long-term future of the school.
Director of Education, Glenn Rodger, said: "It is disappointing that Roberton faces closure, but I am confident that through this consultation we can ensure the best decision is made for the Roberton community."