Women become first joint United Reformed Church leaders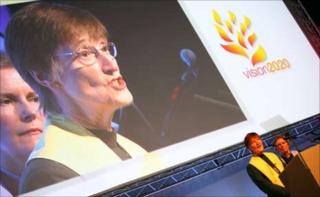 Two women have made history by becoming the first joint national figureheads of the United Reformed Church (URC).
Val Morrison and the Reverend Dr Kirsty Thorpe have been inducted as co-moderators of the URC's general assembly at a ceremony in Loughborough.
Mrs Morrison is from Newtown, Powys, and Dr Thorpe was a journalist and trained for the ministry in Cardiff.
The URC has previously appointed single moderators, including six women.
A spokesman for the URC said the church had a long history of recognising both the lay and the ordained ministry of women.
The pair's induction was a natural step on the path the URC has been following for decades, he said.
Mrs Morrison explained that she and Dr Thorpe would not be the first female moderators of the URC's general assembly.
But she added: "We are the first team, and as importantly, the first female team, and I'm sure this will have an impact on how we work as moderators and the causes we champion.
"We're both excited by the possibilities and challenges of this role and are looking forward to serving our church and the wider world in the next two years."
Role of women
The appointments come as the role of women in the church across the UK has enjoyed a high profile.
Last weekend the Methodist Church inducted two women as president and vice president of the Methodist Conference and, in July, the Church of England will discuss draft legislation allowing for women bishops in the UK.
The moderator is the national figurehead for the denomination, representing the URC both internally and in the wider world.
In 2008, the URC's general assembly agreed to move from a single moderator appointed for one year to two moderators, a minister and an elder, serving for two years alongside one another.